World AIDS Day at NIH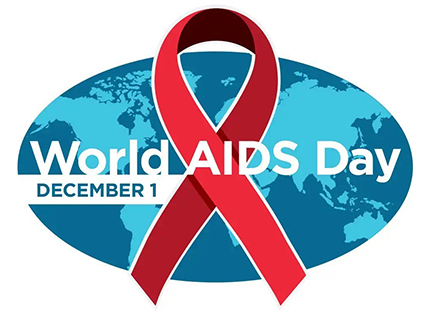 December 1 is World AIDS Day: a day to unite in efforts to end the global HIV pandemic, show support for those living with HIV, and remember those who have lost their lives to the disease. 
World AIDS Day—the first global health day—was observed for the first time in 1988, a decade in which the average life expectancy for an individual with AIDS was three years after diagnosis. Today, HIV is a manageable chronic condition for those with access to treatment and services. But despite this progress, much work remains. Ongoing support for HIV and AIDS research is critical to ending the pandemic and improving the health of people with HIV. 
To call attention to this need, the NIH Office of AIDS Research (OAR) leads the annual NIH observance of World AIDS Day. Each year, as the steward of the world's largest public-sector investment in HIV/AIDS research, NIH: 
convenes a cross-sector and cross-disciplinary group of research partners to discuss recent progress and discuss the challenges that remain
shares an update on the current state and future of HIV research collaborates extensively with federal partners inside and outside NIH, including gov, to coordinate efforts. 
Learn more about previous observances below. 
World AIDS Day 2022 at NIH 
In 2022, NIH commemorated World AIDS Day by highlighting past advances and potential breakthroughs in care and health outcomes made possible by HIV/AIDS research. In a virtual public event, NIH facilitated a compelling discussion about recent progress in HIV/AIDS research and the promise of future studies.
The event brought together federal leaders in the HIV response—including: 
Congresswoman Barbara Lee, Co-Chair and Co-Founder of the Congressional HIV/AIDS Caucus
Harold Phillips, Director of the Office of National AIDS Policy in the White House
Admiral Rachel L. Levine, M.D., Assistant Secretary for Health, U.S. Department of Health and Human Services
Anthony S. Fauci, M.D., Director, National Institute of Allergy and Infectious Diseases and the inaugural director of NIH OAR. 
A panel of distinguished voices from across academia and civil society discussed interdisciplinary approaches across sectors, which are essential to give more people access to lifesaving and life-improving resources for HIV prevention, diagnosis, and treatment. 
To learn more, read this summary of the virtual event and watch the full videocast.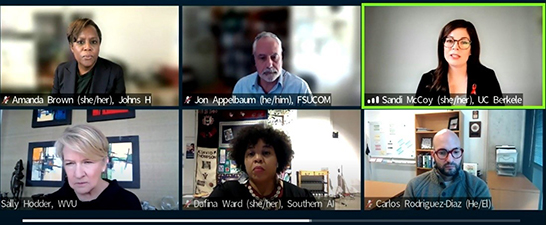 The World AIDS Day 2022 panel discusses recent progress and next steps to advance scientific output in the field of HIV research.  
Past Observances 
Additional Resources
HIV.gov World AIDS Day 2022 roundup

The U.S. Government's theme for World AIDS Day in 2022 was "Putting Ourselves to the Test: Achieving Equity to End HIV." On this page can be found statements and activities from across the government, including:
This page last reviewed on May 12, 2023