NIH World AIDS Day 35 Event:
Achieving Excellence and Equity in HIV Research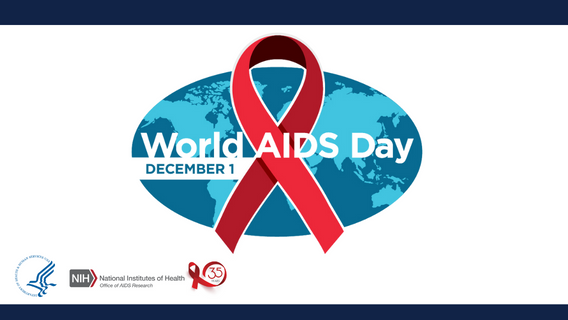 December 1, 2023
11:00 a.m. – 12:30 p.m. ET
Broadcast Live on NIH VideoCast
World AIDS Day 2023 marks the 35th anniversary of the World AIDS Day observance, as well as the 35th anniversary of the founding of the National Institutes of Health (NIH) Office of AIDS Research (OAR) and the integration of the NIH HIV research program. Over those 35 years, transformational research advances in preventing and treating HIV have marked some of the most significant accomplishments in science and public health. But this progress is not reaching all communities equally. Staggering HIV health disparities place a disproportionate impact of HIV on minoritized racial and ethnic groups and diverse sexual and gender populations.
This World AIDS Day, NIH will remember those we have lost to HIV/AIDS, celebrate the progress made in the HIV research response, and consider the research advances that can lead to the end of the HIV pandemic. Discussion topics will include the role of stigma in the persistence of health disparities, challenges in implementing HIV research advances, inclusion in clinical trials, the important role of community, and the next generation of HIV researchers.
Join us December 1 for this live, powerful discussion. Submit questions for the panel to OARInfo@nih.gov
Event Agenda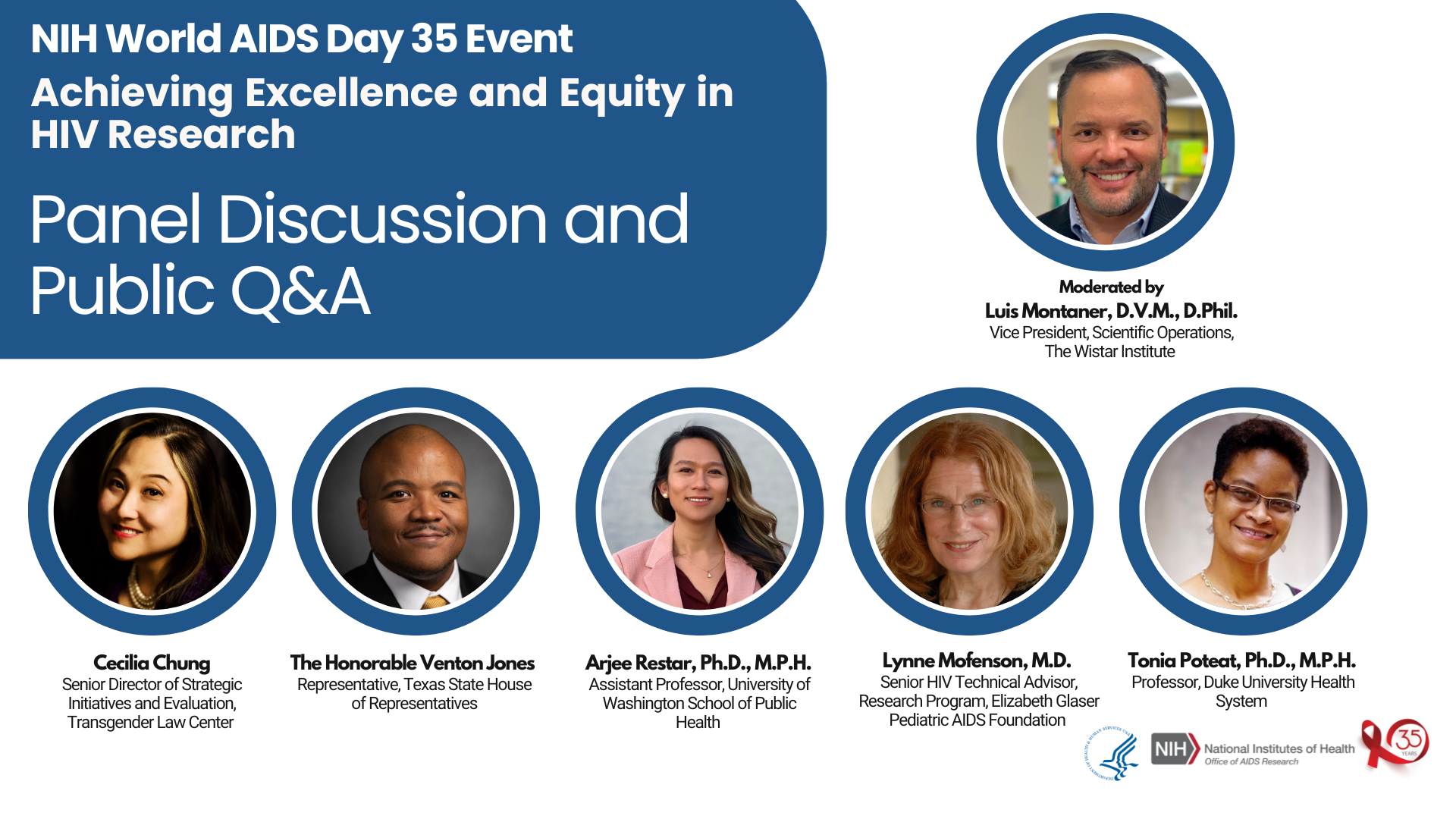 Welcome
Julio Aliberti, Ph.D. 
Senior Science Advisor, Office of AIDS Research, NIH 
Featured Speaker: Update on the National HIV/AIDS Strategy
Harold Phillips, M.R.P. 
Director, Office of National AIDS Policy, Domestic Policy Council, Executive Office of the President 
Fireside Chat: NIH Perspective on World AIDS Day 2023
Bill G. Kapogiannis, M.D. 
Acting Associate Director for AIDS Research and Acting Director, Office of AIDS Research, NIH 
Jeanne Marrazzo, M.D., M.P.H. 
Director, National Institute of Allergy and Infectious Diseases (NIAID) 
Panel Discussion and Public Q&A
Moderator 
Luis Montaner, D.V.M., D.Phil.
Vice President, Scientific Operations, The Wistar Institute 
 
Panelists 
Cecilia Chung 
Senior Director of Strategic Initiatives and Evaluation, Transgender Law Center 
The Honorable Venton Jones 
Representative, Texas State House of Representatives 
Lynne Mofenson, M.D. 
Senior HIV Technical Advisor, Research Program, Elizabeth Glaser Pediatric AIDS Foundation 
Tonia Poteat, Ph.D., M.P.H. 
Professor, Duke University Health System 
Arjee Restar, Ph.D., M.P.H. 
Assistant Professor, University of Washington School of Public Health 
Closing Remarks and Tribute
RDML Timothy H. Holtz, M.D., M.P.H.
Deputy Director, Office of AIDS Research, NIH  
Speaker Biographies
Learn more about World AIDS Day observances at NIH.
This page last reviewed on November 28, 2023