OAR Early Career Investigator (ECI) Initiative: Resources for Next Generation of HIV/AIDS Researchers, Focus on Mentorship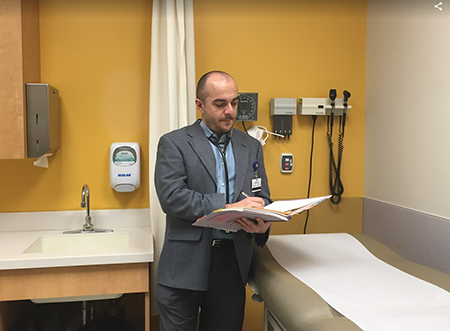 Image: Bill G. Kapogiannis, M.D., FIDSA, Acting Director, NIH OAR
When I was a newly minted medical school graduate in 1997, highly active antiretroviral therapy (HAART), which involved a combination of several drugs with different mechanisms of action against the virus, became the new standard of HIV care. The term HAART was later simplified to antiretroviral therapy (ART). Now widely adopted by the field, this combination approach with ART mounts an aggressive defense against HIV and helps people with the virus to raise their T cell counts and improve their overall health outcomes.
When I started my residency, I was interested in specializing in pediatrics and internal medicine. As new data about HIV treatment options became available, I was drawn to study HIV and other infectious diseases. Along the way, as I refined my focus to infants, children, and adolescents and young adults with HIV, I benefited immensely from the advice and support of my mentors – people such as Jeffrey Lennox, M.D.; Steve Nesheim, M.D.; Harriet Robinson, Ph.D.; and Rama Rao Amora, Ph.D., all at Emory University during my postgraduate fellowship training in adult and pediatric infectious diseases. I am especially thankful to Lynne Mofenson, M.D., who hired me in 2005 to join the Eunice Kennedy Shriver National Institute of Child Health and Human Development (NICHD) at the National Institutes of Health (NIH). Dr. Mofenson masterfully guided and mentored me as I developed my new skillset as an NIH scientist at that time and further refined my focus on leading clinical research trials throughout my early career as the scientific director of the Adolescent Medicine Trials Network for HIV/AIDS Interventions (ATN).
My career trajectory as a researcher would not have been possible without the ongoing support and wise counsel of experienced researchers with whom I remain in contact decades after meeting them. In fact, their valuable lessons continually inspire and motivate me to pay it forward to young scientists from diverse backgrounds whom I have mentored as they developed their research careers at NIH and beyond. My experience with invaluable mentors is not an isolated event, as evidenced by the stories of enduring mentorships I hear from colleagues and investigators at different stages of their careers during Listening Sessions led by the NIH Office of AIDS Research (OAR).
In 2020, OAR launched its Early Career Investigator Signature Program as part of the office's overall goal of building human resource and infrastructure capacity to enhance sustainability of HIV research discovery and the implementation of findings by a diverse, multidisciplinary workforce. Since the program began, early career investigators (ECIs) in HIV research have reiterated the importance of mentorship. 
Efforts to support early stage investigators (ESIs)1 are a priority across NIH. In 2017, NIH launched its Next Generation Researchers Initiative policy to address challenges researchers face as they begin their careers and to promote the growth, stability, and diversity of the research workforce. OAR conducted an analysis of the NIH HIV research program for fiscal years 2015–2020 and found that, although the number of ESIs who received their first NIH grants had increased overall since the policy was implemented in 2017, the number of HIV-focused ESIs receiving grants remained flat or decreased. OAR Listening Sessions conducted in 2021 identified mentorship, exposure to NIH study section and grant review processes, and peer support as key needs of ESIs.
To address some of these needs, OAR recently hosted its second workshop for ECIs in HIV, following the success of its first workshop in 2022. More than 200 attendees from 59 institutions across 20 countries attended. The workshop featured talks on mentorship from Carlos Rodriguez-Diaz, Ph.D., M.P.H.E., MCHES, from The George Washington University Milken Institute School of Public Health, and Mallory Johnson, Ph.D., from the University of California, San Francisco, School of Medicine, as well as talks on research programs about funding opportunities and ongoing areas of research interest from 13 NIH Institutes, Centers, and Offices (ICOs).
In his remarks, Dr. Rodriguez-Diaz highlighted the challenges minority ECIs face but stressed the value of mentorship, citing his own experience of reaching out to the first two directors of the White House Office of National AIDS Policy and receiving positive responses that have since blossomed into valuable professional relationships. One of the most daunting tasks for ECIs is finding established research leaders who have trodden similar paths and are willing to share some of the wisdom they have gained over the years. In his presentation, Dr. Johnson emphasized that attendees should not hesitate to reach out to experienced investigators, since they often are keen to help ECIs develop a vision of what activities will help them accomplish their goals.
In program talks given by NIH ICOs, research leaders reassured workshop participants that NIH program officials want to help them advance in their careers. Even if program officers receive a grant application that is not relevant to their ICO, they will connect ECIs with the appropriate contact.
I would strongly encourage any ECI interested in taking the next step in their career to review materials from the workshop. Other resources are available on the OAR Early Career Investigator Resources webpage. Finally, ECIs should remain on the lookout for information about coffee talks with program and review officers, as well as other engagement events to share their research. ECIs can stay up to date by checking the OAR website or signing up for email updates here.
1 - Early stage investigators (ESIs) are defined by NIH as those individuals who have completed a terminal degree within the past 10 years but have not yet secured substantial NIH funding. OAR uses the umbrella term of early career investigator (ECI) to refer to this group as well as other researchers, including those junior investigators who are early in their careers and may have received some NIH funding but have not yet been promoted to associate or full professor.
This page last reviewed on May 23, 2023