Workshop for Early Career Investigators in HIV
Event Description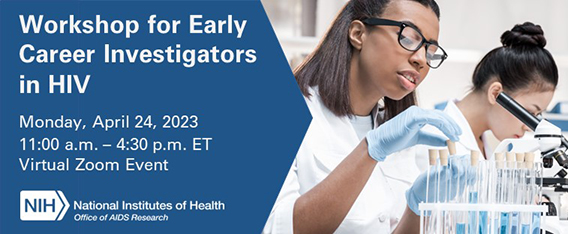 Monday, April 24, 2023
11:00 - 4:30 p.m. ET
Virtual Zoom Event
The National Institutes of Health (NIH) Office of AIDS Research (OAR), in collaboration with NIH Institutes, Centers, and Offices (ICOs) that have HIV/AIDS research budgets, invites students, postdocs, and new HIV investigators to attend the second workshop for Early Career Investigators in HIV in April 2023. NIH OAR looks forward to building on the enthusiasm and feedback from the first workshop in 2022 and providing support and resources to the next generation of HIV investigators. 

Registration is closed. Presentations are available upon request by emailing OARinfo@nih.gov.
Agenda
Speaker Biographies
Goals
The purpose of the workshop is to:
Stimulate scientific exchange, networking, and collaboration among the next generation of HIV investigators. 
Facilitate interactions between fellow investigators, mentors, and NIH program staff.
Enhance skills and knowledge for career development and to identify funding opportunities. 
Increase familiarity about the NIH review and funding processes and about the NIH OAR and the NIH HIV/AIDS research program. 
Provide a platform to disseminate information about HIV-related activities and opportunities.
Workshop participants will have the opportunity to: 
Gain knowledge about the role of NIH OAR and the scope of HIV/AIDS research across NIH. 
Ask questions of invited speakers about their experiences as mentors and mentees.
Gain general knowledge about NIH resources available to them to support their career milestones. 
Learn about HIV funding opportunities and the overall NIH grant application processes and ask questions to Program Directors and Scientific Review Officers. 
Contribute to enhanced diversity and research capacity in the HIV/AIDS field to achieve the goals of the Ending the HIV Epidemic in the U.S. (EHE). 
Connect and build new relationships with fellow HIV researchers.
 
Who is encouraged to attend?
OAR invites Early Career Investigators to register for this free virtual workshop.
Early Career Investigators are defined as scientists within ten years from their terminal degree who are in the process of applying for an independent grant; those who have applied but have not yet been successful; and recently awarded grantees (within two years).
Undergraduate and graduate students are also encouraged to attend to learn early on about the professional path of an NIH-funded researcher.
More about NIH OAR's Support of Early Career Investigators
OAR continues efforts to build human resource and infrastructure capacity to enhance sustainability of HIV research discovery and the implementation of findings by a diverse and multidisciplinary workforce as stated in Goal 4 of the NIH Strategic Plan for HIV and HIV-Related Research. The Plan provides a roadmap for the NIH HIV/AIDS research program, ensuring that funds are allocated in accordance with the NIH HIV scientific research priorities.
OAR also continues to host consultations with HIV/AIDS senior scientists and mentors to stimulate grant funding opportunities at the NIH level, and work with the ICOs to create more opportunities for junior investigators in the field.
This workshop is the second in a series to provide new investigators a "live" opportunity to meet NIH staff, ask questions, and network.
Presentations
Presentations from the first workshop are available upon request by emailing OARinfo@nih.gov. Presentations from the April 2023 workshop will be available following the event.
This page last reviewed on April 21, 2023