NIH VIRTUAL WORKSHOP
Community Voices: Forging the Path Forward for HIV Self-testing and Personalized Viral Load Monitoring
Event Description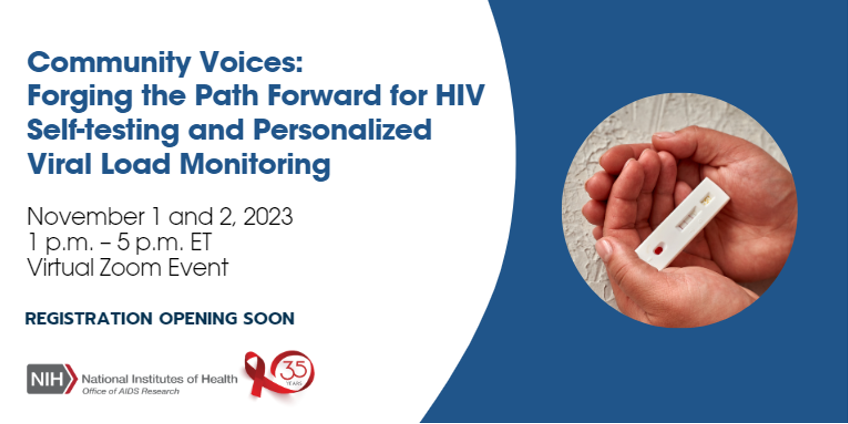 November 1-2, 2023
1:00 to 5:00 p.m. ET
Virtual Zoom Event
Agenda
The National Institutes of Health (NIH) Office of AIDS Research (OAR) and the NIH HIV/AIDS Executive Committee (NAEC) invite HIV researchers and advocates to NIH's first community-oriented workshop focusing on advancing the development of HIV diagnostics and technologies.
Registration information is coming soon.
Goals
Quality HIV testing and viral load monitoring are critical to prevent, care for, and treat HIV and AIDS. However, gaps in access to rapid at-home on-demand HIV self-testing and viral load monitoring tools are keeping many people with HIV from easily monitoring their status to manage their care. Feedback from the HIV community – advocates and community organizers – underscores the need to make these tools affordable and accessible.
This workshop will:
Solicit feedback from HIV community organizers on needs and preferences related to HIV self-testing and viral load monitoring products
Examine cutting-edge opportunities for advancing the next generation of rapid, at-home, and point-of-care diagnostics
Include input from the U.S. Food and Drug Administration and World Health Organization on considerations for increasing access to diagnostics
NIH is committed to engaging members of the HIV community early and often as it invests in research to provide more people with the tools they need to be aware of their HIV status and, if diagnosed with HIV, to monitor their viral load. By inviting an array of partners to participate in this workshop, NIH intends to gather feedback and input that will ensure alignment of its HIV research program with community needs. This workshop is consistent with NIH's commitment to reducing the incidence of HIV.
Speakers
The full list of speakers will be announced soon. Speakers will come from the following groups: HIV researchers, advocates, community organizers, product developers, regulators, and funders.
Who Is Encouraged To Attend?
Members of the HIV community interested in HIV self-testing and viral load monitoring
HIV researchers
HIV technology and device developers
Industry consultants
Presentations
Pending presenters' permission, presentations will be made available upon request after the workshop.
This page last reviewed on September 22, 2023