World AIDS Day 2022: Progress and Promise in HIV Research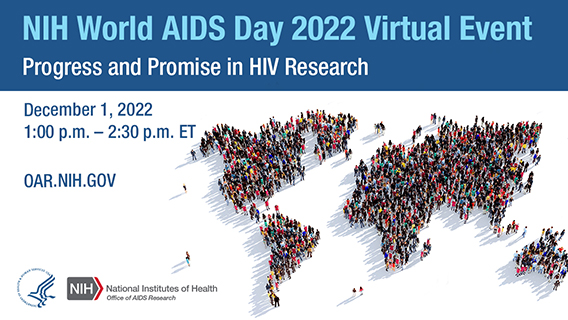 Join federal leaders, distinguished guests, and the broader HIV research community for a live, virtual discussion on "Progress and Promise in HIV Research" as the NIH marks World AIDS Day 2022.
Thursday, December 1, 2022
1–2:30 p.m. ET
NIH Statement on World AIDS Day – December 1, 2022
Agenda
Opening Remarks
Maureen M. Goodenow, Ph.D.
Associate Director for AIDS Research and
Director, Office of AIDS Research
National Institutes of Health
Congresswoman Barbara Lee
Co-Founder & Co-Chair, Congressional HIV/AIDS Caucus
Harold Phillips, MRP
Director, Office of National AIDS Policy
Domestic Policy Council
Executive Office of the President
Rachel L. Levine, M.D.
Admiral, U.S. Public Health Service
Assistant Secretary for Health
U.S. Department of Health and Human Services
Anthony S. Fauci, M.D.
Director
National Institute of Allergy and Infectious Diseases
Panel Discussion and Public Q&A
Moderator:
Sally L. Hodder, M.D.
Associate Vice President for Clinical & Translational Science/Director
West Virginia Clinical and Translational Science Institute
Panelists:
Jonathan S. Appelbaum, M.D.
Laurie L. Dozier Jr., M.D., Education Director and Professor of Internal Medicine
Chair, Department of Clinical Sciences
Florida State University College of Medicine
Amanda M. Brown, Ph.D.
Associate Professor of Neurology
Johns Hopkins University School of Medicine
Sandra McCoy, Ph.D., M.P.H.
Professor
Division of Epidemiology
School of Public Health
University of California, Berkeley
Carlos E. Rodriguez-Diaz, Ph.D., M.P.H., MCHES
Associate Professor, Vice-Chair, Department of Prevention and Community Health
Milken Institute School of Public Health
George Washington University
Dafina Ward, J.D.
Executive Director
Southern AIDS Coalition
Closing Remarks and Tribute
RDML Timothy H. Holtz, M.D., M.P.H., FACP, FACPM
Deputy Director
Office of AIDS Research
National Institutes of Health
Speaker Biographies
Questions
The public is invited to send questions for the panel before and during the event by emailing the NIH Office of AIDS Research at OARInfo@nih.gov.
This page last reviewed on December 1, 2022