NIH/OAR 2019 World AIDS Day Observance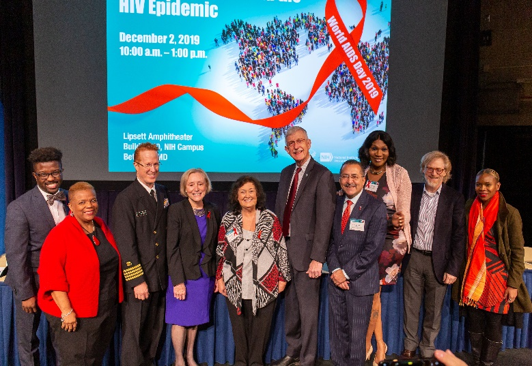 Left to right: Daniel Driffin, Pernessa C. Seele, CAPT Timothy H. Holtz, Dr. Maureen M. Goodenow, Jeanne White-Ginder, Dr. Francis S. Collins, Guillermo Chacon, Marissa Miller, Mitchell Warren, and Abby R. Charles.
On December 2, 2019, the National Institutes of Health (NIH) observed World AIDS Day. Representatives from community-based organizations, health officials, community leaders, and advocates gathered at the National Institutes of Health Campus to commemorate the lives lost to HIV/AIDS and celebrate the many breakthroughs achieved in the more than three decades since HIV was first identified. The event, titled Community and NIH: In Partnership to End the HIV Epidemic, was an opportunity for representatives to hear from and interact with community members who shared their perspectives on the HIV epidemic and efforts to support achieving the goals of Ending the HIV Epidemic: A Plan for America (EHE).
I had the privilege to welcome and introduce Dr. Francis S. Collins, Director of NIH, who provided inspiring opening remarks and set the stage by reminding us that "community involvement could not be more important than it is right now. We have made stunning progress, but we still have some distance to go."
Dr. Collins opening remarks were followed by Ms. Jeanne White-Ginder, mother of Ryan White, who through her family's story highlighted the importance of perseverance and resolution as we continue to fight against HIV and the stigma associated with it. Their efforts led to ground-breaking legislation—the Ryan White Comprehensive AIDS Resources Emergency (CARE) Act. Today, the Health Resources and Services Administration's Ryan White HIV/AIDS Program is the largest federal program focused specifically on providing HIV care and treatment services to low-income people living with HIV who are uninsured or underserved.
Other presenters included Cornelius Baker, Chief Policy Advisor, U.S. Department of State, Office of the U.S. Global AIDS Coordinator and Health Diplomacy; Guillermo Chacón, President, Latino Commission on AIDS; Abby R. Charles, M.P.H., Senior Program Manager, Institute for Public Health Innovation; Daniel Driffin, Co-Founder, Thrive SS; Dr. June Gipson, Ph.D., Ed.S., President and CEO, My Brother's Keeper; Rev. Debra Hickman, MDiv., Co-Founder of Sisters Together and Reaching, Inc., Consuella Lopez, Director of Operations, Casa Ruby; Marissa Miller, Senior Strategic Director, National Trans Visibility March on DC; Pernessa C. Seele, D.L.H., Founder and CEO, Balm in Gilead, Inc.; and Mitchell Warren, Executive Director, AVAC. CAPT Timothy H. Holtz, M.D., M.P.H., Deputy Director, Office of AIDS Research, moderated one of the two panels and discussions.
This year's World AIDS Day observance reminded us of the certain impact communities can have in driving positive changes in HIV policies and the U.S. response to the epidemic, not only nationally but at the local level. Community leadership remains essential to ensure that efforts in support of EHE are relevant and focused on the people living with or at-risk for HIV without leaving anyone behind.
The event was livestreamed and the video can be viewed here on the NIH Office of the Director's YouTube channel. I encourage you to watch the proceedings and share the video with your networks.
Maureen M. Goodenow, Ph.D.
Associate Director for AIDS Research and
Director, Office of AIDS Research
National Institutes of Health
This page last reviewed on October 31, 2022